VOLUME 21 #2
This edition of Folk Lines provides plenty of options for seeing live music this spring…different styles, different prices—something for everyone! We also share information regarding hiring summer students, and give a link for purchasing passes for the 2023 Lunenburg Folk Harbour Festival.

Weekends at the Opera House, Spring 2023

The Lunenburg Folk Harbour Society has programmed a fantastic lineup for our spring series, with something for every taste…singer-songwriter, alt-folk, blues, Celtic, and more! All concerts take place at 7:30 pm at the Lunenburg Opera House, 290 Lincoln St., Lunenburg. Ticket prices range from $15 to $45. Ticket information for the entire series can be found here, and individual ticket links are given below. Ticket prices include taxes!
Buy spring concert series tickets


Weekend #1: March 24 and 25
The series begins with a weekend full of Nova Scotian musicians!



Matt Williams photo
Friday, March 24: Joel Plaskett
Joel Plaskett has many Folk Harbour appearances to his name, dating back to the 2006 Festival, with other Festival and concert series performances since then. Son of Folk Harbour co-founder, Bill Plaskett, it is always special to have Joel on our stage. A prolific songsmith, Joel has written songs that are considered East Coast anthems. In this video, Joel and Mo Kenney perform Joel's song, "True Patriot Love."
Tickets are $45 ($22.50 for those 25 years and under).

Saturday, March 25: Songwriters' Circle with Terra Spencer, The Gilberts, and Braden Lam
This concert not only features three amazing acts sharing the stage, but will also be the first announcement of the 2023 Lunenburg Folk Harbour Festival lineup. The Program Committee has booked a stellar lineup of returning favourites, new discoveries, and established artists appearing at Folk Harbour for the first time. We are excited to reveal the Festival artists to you at this event.
Raised on the mud banks of the Avon River, Nova Scotian funeral director-turned-songwriter Terra Spencer was recruited as a backup singer while scooping ice cream at a music festival and a music career was launched! In a short time, she has crafted a catalogue of startlingly intimate songs that marry fingerstyle guitar, gospel piano, and her butterscotch voice, all delivered with sly humour and warmth. Here Terra performs "Cotton Mill", her ode to the textile mill in Windsor, NS.

Siblings Frieden, Reuben, and Maisie are The Gilberts, a multi-award winning contemporary folk trio bringing vibrant three-part harmonies, soulful lyricism, and melodious alchemy to their original songs. In this video for their song, "Listen Closely", the marvelous sibling harmonies shine.

Described as "Nova Scotia's emerging songwriting sensation" by Grid City Magazine, Braden Lam blends authentic songwriting with modern indie flare. Check out his video for "Linen Sheets", a gentle lullaby, written and performed with his wife Fai.
Tickets for the Songwriters' Circle are $35 ($17.50 for those 25 years and under).



Weekend #2: April 14 and 15A duo of duos, showing the power of musical partnerships.

Friday, April 14: Pillow Fite
Pillow Fite is an alt-folk group from Halifax consisting of Art Ross (they/them) and Aaron Green (he/him). Their vastly different musical approaches complement each other to produce sweet yet biting songs about road trips, queer love, and mental health. Tickets are $15 ($7.50 for those 25 years and under).

Saturday, April 15: The Small Glories
The roots powerhouse duo, The Small Glories, is made up of Cara Luft and JD Edwards. According to Americana UK, "Some things just work together… to witness a performance by The Small Glories is a rare opportunity to experience that indefinable quality that creates perfection." Luft and Edwards duplicate and reinforce each other's many strengths and yet allow their distinct personalities to shine through, resulting in a live show that is heartwarming and hilarious.
Tickets are $35 ($17.50 for those 25 years and under).


Weekend #3: April 28 and 29
This weekend showcases the joys of performing with musical friends and musical family.

Friday, April 28: Charlie A'Court, Lloyd Spiegel and Suzie Vinnick
Canadians Suzie Vinnick and Charlie A'Court join forces with Australian Lloyd Spiegel to bring their "International Roots 'n' Blues Kitchen Party" to the stage. Having commanded festival and theatre stages across the globe as solo artists, these three seasoned performers bring their combined experience and personal friendships to this tour, showcasing not only their individual talents, but also a collaborative spirit and mutual respect.
Tickets are $35 ($17.50 for those 25 years and under).

Saturday, April 29: The Ennis Sisters
For over 25 years, The Ennis Sisters have been connecting to audiences across the world. A Juno Award, multiple ECMAs, Music Newfoundland and Labrador awards and a SOCAN award for top grossing Canadian country song – along with endless accolades from fans and critics alike – are tangible proof that they've tapped into something universal, beyond the notes on the page. Tickets are $35 ($17.50 for those 25 years and under).


Weekend #4: May 12, 13, and 14
Our final weekend of the spring series features a trio of bands that bring a diversity of styles and loads of musicality to our stage.


Photo by Lukas Wall/CBC
Friday, May 12: Rum Ragged
Rum Ragged takes a bold approach to the distinct folk music of their home in Newfoundland. Boasting bouzouki, fiddle, bodhran, banjo, guitar, and button accordion, these new champions of East Coast music enliven and enlighten audiences with both songs and tune sets, delivered with an honest swagger that is far beyond their years. Tickets are $25 ($12.50 for those 25 years and under).


Saturday, May 13: Jah'Mila
Wrapped in the roots of reggae, Jah'Mila has been the beacon for the genre in Atlantic Canada. Her sound captures the electrifying energy of authentic roots reggae music, interlaced with soul, jazz, and R&B.
Tickets are $25 ($12.50 for those 25 years and under).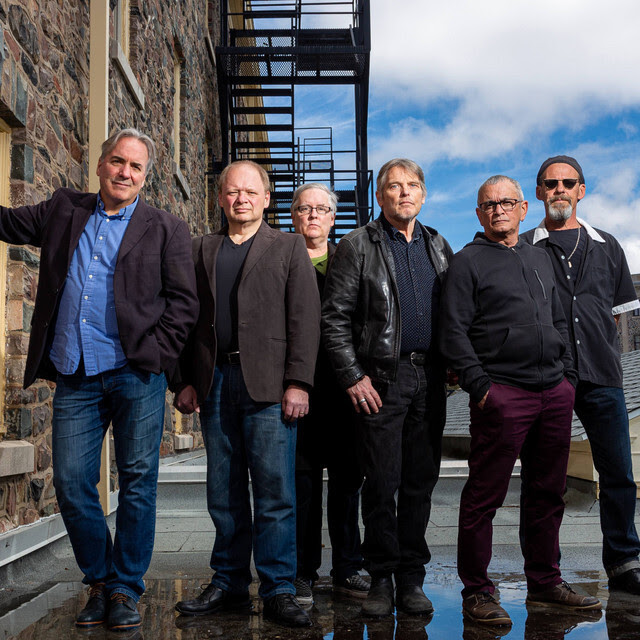 Sunday, May 14: Rawlins Cross
Since forming in the late 1980s, Rawlins Cross has been fusing Celtic traditional music with rock, pop, and worldbeat music. With 11 commercial recordings, including the gold-selling 
Reel 'n' Roll (1993), the band has earned multiple JUNO nominations and won nine East Coast Music Awards.
Tickets are $45 ($22.50 for those 25 years and under).


Funders
We acknowledge the support of Music Nova Scotia in helping us bring our province's musicians to our stage.


Summer jobs for students / youth
Are you looking for meaningful work this summer? If you are a student or youth between the ages of 15 and 30* we'd love to hear from you! We're hiring for two positions to help us put on the best weekend of live folk music in Nova Scotia – the Lunenburg Folk Harbour Festival! Visit our 
website for details and job descriptions. *As per funding requirements. Hiring subject to funding approval.


Festival 2023: Passes on sale now!
The 38th annual Lunenburg Folk Harbour Festival will take place from August 10 to 13, 2023.

Early Bird Festival passes are on sale now, for $160. These passes give access to all Festival venues for the four days of the event. This price is in effect until April 15, 2023. Passes at the regular price of $175 will be on sale from April 16 through to the Festival (or until sold out). Everyone knows that the prices of just about everything—including most of our 2022 Festival costs—have increased greatly in the last year or so. Despite that, the 2023 Folk Harbour Festival is being offered to you at the same price as last year…a rare bargain in today's economic climate. Passes can be purchased at the Folk Harbour office, 125 Montague St., Lunenburg, (902) 634-3180. The winter hours are Monday, Wednesday, and Friday, from 10 am to 4 pm. Purchases can also be made online through Ticketpro.
We look forward to seeing you at our spring concerts!